Aerostars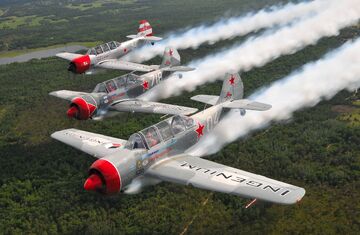 The Aerostars are a prescision aerobatic demo team whose aerial ballet captivates air show audiences large and small. They fascinate the crowd with a combination of graceful aerobatics flown it tight formation, spectacular breakaways followed by breath-taking opposing passes and awe-inspiring inverted maneuvers. The team performs in the Yak 52 TW, a former Soviet designed, Romanian built, WWII-type aerobatic trainer. The deep roar of their 400 horsepower, supercharged, nine cylinder radial engines singing in harmony is a true crowd pleaser. The Aerostar's performance is the embodiment of teamwork, professionalism, and commitment to excellence. Whether you need a feature act or a complement to the lineup for a major show, the Aerostars can light up the skies at your next event.
The Pilots
[
]
Team Lead - Harvey Meek
[
]
After graduating from college, Harvey joined the military where he served as a pilot with an operational fighter squadrom in Europe, followed by a tour with a pilot training unit. During his military career, he held positions as Flight Safety Officer, F-18 Maintenance Test Pilot, Senior Instructor Pilot, Instrument Check Pilot, and Flight Commander. Harvey has over 25 years of global flying experience, holds Airline Transport Pilot Licenses in three countries, and at present, flies for a major international airline. He has flown a wide variety of military and civillian types, ranging from light aircraft, to F-18 Hornets, to the 747-400. Presently however, he most enjoys flying the Yak 52 TW.
Left Wing - Paul Hornick
[
]
Paul Has over 20 years of commercial flight experience with over 6000 hours of flight time in aircraft ranging from a Piper Cub, to an Airbus A300. He holds an Airline Transport Pilot Certificate with Single and Multi-Engine and Instrument Ratings. Paul is type rated on the Airbus A300 and Gulfstream G200. He has been employed as a Captain, flying domestically and internationally. Paul has held positions during his airline tenure in the Engineering Test Flight Department, Flight Standards Department, and the Flight Crew Training Department.
Right Wing - David Monroe
[
]
Dave was born in Minneapolis and grew up in an airline family. He soloed at the age of 16 and obtained his Private Pilot License on his 17th birthday. Dave is currently a B-767 Captain for a major airline with experience as a Check Airman, Certified Flight Instructor, Advanced Aerobatic Competition Pilot and Certified Aerobatic Judge. Dave graduated from National University in San Diego and has over 21,000 hours of flying time.
Maintenance
[
]
Mechanic / Ferry Pilot - Pete Helms
[
]
Pete has been flying and working on airplanes for over 30 years. He has an A&P Mechanics license along with an Airline Transport Pilots license. He has over 15,000 hours and in his spare time away from the Aerostars is a Captain for a major airline. Pete supports the Aerostars by videotaping, servicing and ferrying the teams fleet of Yak-52 TWs.
Schedule
[
]
Aerostars 2013 Schedule

| Venue  | City, State | Dates |
| --- | --- | --- |
| Sun n' Fun Fly In | Lakeland, FL | April 9th - 14th |
| Rockford Airfest | Rockford, IL | June 1st - 2nd |
| Indianapolis Air Show | Indianapolis, IN | June 15th - 16th |
| Cape Girardeau Air Show | Cape Girardeau, MO | June 29th - 30th |
| Dubuque Airshow | Dubuque, IA | July 3rd |
| Gary's South Shore Airshow | Gary, IN | July 12th - 14th |
| EAA AirVenture | Oshkosh, WI | July 29th - August 4th |
| Milwaukee Air and Water Show | Milwaukee, WI | August 3rd - 4th |
| Wings Over Waukegan | Waukegan, IL | September 7th |
| Coshocton Air Show | Coshocton, OH | September 21st |
| Salute America Air Show | Dallas, GA | October 5th - 6th |
| Wings Over North Georgia Air Show | Rome, GA | October 12th - 13th |
| Warbirds Over Monroe Air Show | Monroe, NC | November 1st - 2nd |
External Links
[
]