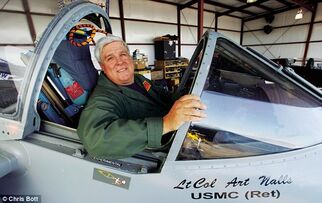 Art is a native of Northern Virginia, born and raised in Fairfax County, just south of Washington, D.C. After graduating from Hayfield High School, he was nominated to attend the United States Naval Academy at Annapolis, Maryland, where he majored in aerospace engineering. This was a natural, since he always had a deep interest in aviation. While attending Annapolis, Art was awarded a Guinness World's Record for building and riding the World's Smallest Rideable Bicycle. This tiny bike is less than five inches tall and was the official record holder for several years, featured on several national television shows. In 1976, he graduated with Merit, received a highly-coveted Burke (equivalent) Scholarship, and was commissioned as a Second Lieutenant in the Marine Corps.
His first assignment as a Marine officer was attending The Basic School in Quantico, Virginia, where all Marine officers learn the basics infantry tactics, prior to attending flight school. Every Marine Officer is an infantry officer first before becoming an aviator. After Quantico, Art transferred to Pensacola, Florida and began flight training in the T-28B "Trojan." After their first solo, students immediately begin aerobatic training and selection for jet transition is made with only a handful of flight hours. He soloed in the T-28 with only 28 hours total flight time and 14 flights, which is normal for Naval Aviator students. Selected for jets, Art almost immediately transferred to Kingsville, Texas, for basic and advanced flight training. In Kingsville, he flew the T-2C "Buckeye," and the TA-4J "Skyhawk" and carrier-qualified in both aircraft aboard the USS Lexington. In 1979, Art was designated a Naval Aviator and received his wings of gold. His total flight time at that point was just over 283 flight hours.
His first operational aircraft was the AV-8A "Harrier" and he was assigned to VMA-231 at Marine Corps Air Station Cherry Point, North Carolina. While stationed at Cherry Point, he carrier-qualified in the AV-8A "Harrier" aboard the USS Iwo Jima, LPH-2, and made several shipboard deployments, virtually over the world. He has traveled above the Arctic Circle, below the equator, and made a complete global circumnavigation, reaching Beirut, Lebanon twice – once from the east and once from the west.
While on a training mission attached to VMA-231, Art's "Harrier" suffered a catastrophic engine failure near Richmond, Virginia. With little time to react, he essentially landed the Harrier engine-out at a civilian airfield. This was an extremely precise and risky landing, not normally attempted. The emergency procedures recommend an ejection. Art is the only person to have made such a landing and he was consequently awarded an Air Medal, with gold numeral one for the act. With over 900 hours in the AV-8A and over 400 shipboard landings, Art was selected as the single Marine Corps Pilot to attend the USAF Test Pilot School at Edwards, AFB, CA for Test Pilot Course, 85A. One Marine, per year, is sent to Edwards, and for 1985, it was Art.
After graduation and as a newly-designated Test Pilot, Art was assigned to Naval Air Station Patuxent River, Maryland, to join three other Marine Corps test pilots flight testing the then-new AV-8B "Harrier II." As part of a very small test team, he performed lots of test flying, in the "Harrier" and the A4-M "Skyhawk."

He was a project test pilot for several "Harrier" programs including the high angle-of-attack, departure resistance testing for the leading edge root extensions (LERX), asymmetric takeoff and landing tests, weapons carriage and delivery, and shipboard compatibility and launch bulletin testing. He performed the initial shipboard certification and flight test of Italian and Spanish "ski jump" ships, (ITS Garibaldi and Principe de Arsturias) performing the first ski-jump takeoffs in the AV-8B.
Art also had the good fortune to do engine airstart testing, which is very dangerous flight testing, especially in a single-engine jet. The airplane's only engine is deliberately shut down in flight, cooled for several minutes, and re-started at a specific altitude and airspeed. Besides gliding like a rock, there is also the possibility that the engine will not re-start and the pilot must therefore be prepared to land the airplane engine-out. This requires a great deal of precision and training because there is only once chance to get it right and only one place to do it – Edwards Air Force Base, California. If the engine fails to re-light, the pilot then maneuvers to an optimum altitude and airspeed to increase the chances of a successful relight and attempts another relight. If that attempt fails, then the only options are to land on the dry lakebed, or eject. This entire sequence happens over a matter of minutes. Art led the flight test efforts for several single-engine airstart projects and was an instructor to other pilots performing these same tests, in the A4-M and TA-4J "Skyhawk," and the AV-8B and TAV-8B "Harrier II." During this testing, Art accumulated over 6 hours of flight time in single-engine jet aircraft WITHOUT THE ENGINE RUNNING. Other than the space shuttle, that's probably the fastest glider training available.
Art retired from the Marine Corps and started a real estate development company, Nalls Development and Investment, specializing in restoring and developing the neglected areas of historic Washington, D.C., such as Anacostia and South West Washington, D.C. He returned to flying by joining the Commemorative Air Force and become a flying sponsor of two of their aircraft. He now regularly flies his L-39 "Albatross" Czechoslovakian Advanced Jet Trainer and a 1939 Piper Cub L-4 "Grasshopper" aircraft powered by an original Continental 65 HP, 4-cylinder engine. He has flight time in approximately 65 different type, model, series of military and civilian aircraft in addition to the "Harrier." These include the B-52, C-141, C-130, A-7, A-37, T-38, F-4, F-5, F-15, and F-16, and F-18. He was also NATOPS Qualified for a special flight test in the back seat of the F-14 "Tomcat."