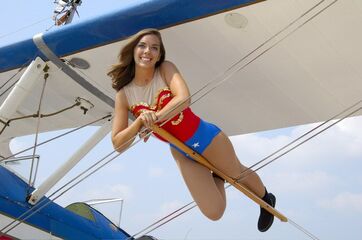 "Wonder Ashley Awaaaaay!"~Said before flying away
Ashley Battles was raised as a Georgia peach in Augusta, Georgia. She is CJ Porritt's recent love interest (fomerly, but still friends) Her passion for aviation led her back to Tulsa, Oklahoma to pursue a career in flying. Ashley started flying at age 16 and wing walking at age 20. She has her grandfather to thank for her passion and dedication to the aviation industry. She hopes she will follow in his footsteps as a skilled and talented warbird pilot. Ashley has been a pilot since 2000 and has so far obtained her Commercial certificate, Multi-Engine, Instrument, and several type ratings. She has flown thousands of hours as a fire patrol pilot, an airline pilot, and a warbird pilot. In addition to flying, Ashley has an Aviation degree from Oklahoma State University. She has been the proud owner of a Russian Yak 52, a founder of the Rodger L. Modglin Memorial Engineering Scholarship, National Event Coordinator for the Red Star Pilots Association, the Vice President of the Ninety-Nines International Intercollegiate Internet Chapter, and a member of the AOPA, EAA, and Women in Aviation. Her superpowers including flight, super strength, super speed, ability to survive in space without any equipment, agility, levitation, ability to glide (like Knuckles the Echidna, uncommonly), super leaping (before taking off into the sky or outer space) and durability. She can fly in normal clothes as well as a short sleeved shirt, black women shorts, sandals, other clothes. She rescued CJ from Tira and CJ rode on her back and Ashley flies him home when he is on her back. Also she can carry any people and children for a ride or take them to safety.
Community content is available under
CC-BY-SA
unless otherwise noted.