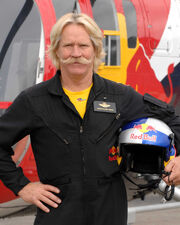 "Malibu" Chuck Aaron is the first - and only - civilian pilot ever to be licensed to perform helicopter aerobatics in the United States. In fact, he's one of only three pilots permitted to execute the dangerous maneuvers internationally.
Chuck is also the first helicopter pilot to be presented with the Art Scholl Showmanship Award, an honor bestowed by the International Council of Air Shows to recognize the world's most outstanding air show performers, and was inducted in 2011 to the prestigious Society of Experimental Test Pilots.
But the blond, mustachioed pilot isn't one to brag - or to rest on his laurels. Chuck takes to the road much of the year, piloting the one-of-a-kind Red Bull Helicopter through breathtaking air show choreography including backflips, 360-degree rolls, and a heartstopping tumble called the Chuckcilvak. "People can't believe what they're seeing, Chuck laughs. "How can a helicopter do all those crazy things?"
Born in San Antonio, Chuck first flew a helicopter at age 20 and built a career through hard work, moving up from crop duster and traffic reporter to film and television stunt pilot. He helped the U.S. Department of Defense develop and test night-vision systems, and he even rebuilt three Cobras from leftover military parts.
In 2004, he joined forces with Red Bull to take on a daunting challenge: figuring out how to perform aerobatics in a helicopter. After devoting nearly two years with the Flying Bulls team to modify and test a Messerschmitt-Bölkow Blohm BO-105, devise maneuvers, and determine how to make the aircraft perform them, in 2006 Chuck guided the Red Bull Helicopter through its U.S. debut.
Today, Chuck has logged more than 20,000 hours in the air and performed aerobatics with the Red Bull Helicopter at more than 150 air shows and events from coast to coast. "I love doing things nobody has ever done," he declares, "as well as the opportunities the Red Bull Helicopter offers me."
http://www.redbullusa.com/cs/Satellite/en_US/Profile/Chuck-Aaron-021242751977720
Community content is available under
CC-BY-SA
unless otherwise noted.