Airshow Season 2013
Cable Air Show January 12, 13, 2013 www.cableairport.com/airfair
Sponsors:
The Abingdon Co.; Goodyear; Eagle Engines; Softie Emergency Parachutes; American Propeller Service; mt-propeller USA, Inc; Steen Aero Lab; Champion Aerospace; Airflow Performance; Concorde; Hooker Harness; Oregon Aero; Piloti; VedaloHD
Bio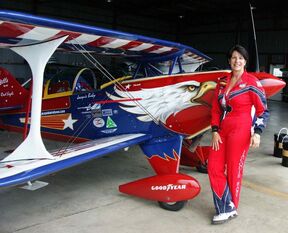 When most people turn 50, they figure it's time to relax and settle into neutral while coasting toward retirement. Not Jacquie B! When Jacquie turned 50, she launched her solo aerobatic career with her one-of-a-kind Pitts Special biplane. Why not?  "The sky never runs out of up!" as she says.
During the centennial celebration of powered flight in 2003, Jacquie finally quit the humdrum of a white collar profession and realized her dream as an air show performer, becoming the first female pilot to enter this business at the age of 50.
Established air show professionals were quick to credit Jacquie for her professionalism, spunk and drive, but many expected her to fade away before making much of a mark in this youth-and-male-dominated arena.
Nearly nine years later, Jacquie B is still in this game, and her list of performance dates is growing. Moreover, Jacquie is a powerful inspiration to her two million fans who realize that they, too, can accomplish great things later in life.
Jacquie B has earned her wings. She no longer qualifies as a newcomer flying for gas-and-a-hot-dog, as the saying goes.  Her time has come.
With over 2,500 flight hours and more than 100 coast-to-coast air show performances behind her, Jacquie has proven that she has the talent, stamina, discipline and guts to reach beyond the limits placed on her by naysayers. In fact, she broke even more stringent cultural boundaries when she became the first female solo pilot to perform at the 2010 Al Ain Aerobatic Show in the United Arab Emirates.
Jacquie's impact on the air show scene has won national attention from publications like Smithsonian Air & Space, World Air Show News, InFlight, Atlantic Flyer, Pacific Flyer, Fly-Low and more. She is also featured in the coffee table book by acclaimed aviation photographer Erik Hildebrandt: Front Row Center IV.
Jacquie's influence is much broader than the 10-minute tumbling sequence she performs in the sky. She has earned the reputation as a respected professional who delivers what she promises, both in the air and on the ground.
Jacquie's larger-than-life yet approachable personality makes her a vibrant hit at the crowdline and under the autograph tent,where she lavishesfans with her time and attention. She's also sought after as a public speaker, offering motivational talks to Women in Aviation, the Ninety-Nines, local EAA Chapters, pilot groups across the country, local schools, and other venues at air shows across the country.
Jacquie traces her love of flying her to her earliest days, when, as a newborn, her first outing was to the Los Angeles County Airport Air Show. Her father's interest in airplanes and flying inspired Jacquie to want to ride the wind.  Jacquie spent many years dreaming of flying but was unable to do much about it until years later after working and saving her money.  By the time she was 32 years old, she decided she had waited long enough.  She enrolled in ground school and the rest is history, as they say.  She earned her Private Pilot certificate in 1986 and shortly thereafter was introduced to the world of aerobatics.  A friend offered her a ride in a Pitts Special and she jumped at the chance to do a different kind of flying.  With that first flight of loops, rolls, spins and a few other very scary maneuvers, she was instantly hooked on aerobatics.  "I was so bored with the time between take-offs and landings, I just knew there had to be something to do in between".  Once she discovered aerobatics, there was no question in her mind she was destined to learn a new kind of flying.  It took a few years longer to save enough money to take aerobatic lessons, but save she did and finally took her first "formal" aerobatic lesson in July 1997.  She entered the International Aerobatic Club sanctioned competition in August 2000 and rapidly progressed to the Advanced category. 
Aerobatics is Jacquie's passion, but her love of flying does not stop there.  Jacquie competed in the 2001 Reno Air Races in the biplane class, finishing with an impressive sixth place in the Bronze class.  The following year, she advanced to the Silver class and again finished sixth.  Jacquie continued to race at Reno in 2003 and 2004, finishing in the middle of the Silver class. Her Reno results yielded features in several publications.
Jacquie has flown a variety of aircraft, including Cessnas, Stearmans, AT-6, T-28, Beechcraft Duke, Dutchess, King Air, Baron & Bonanza, Aeronca Champ, Citabria, Decathlon, Lancair, Sukhoi, Aircoupe, Baby Ace, Beaver on floats, C-172 on floats, Supercub on floats, Yak 52, Nanching  CJ-6, Piper Arrow, Yak 52 and  Extra 300.  She holds a Commercial certificate in land-based aircraft as well as a seaplane rating and holds an unrestricted, Level 1 ACE card. 
But no aircraft compares to her beautiful red Extra 300 with iridescent stars all over as if she just flew through the Milky Way!  Her new Extra has 300+ horsepower, a composite MT propeller and two seats so she is now able to share her love of flying with others by giving rides to those who are interested.
Demonstrating a well-rounded need for speed, Jacquie's hobbies include skydiving, tennis, fitness/weight lifting, and riding her Harley-Davidson in Danville,California, where she resides with her husband. Before she discovered that she would "rather fly than eat," she also was a surfer and a runner, took 14 years of ballet training, and learned several languages. She also plays golf.
As Jacquie approaches her first decade of flying air shows, she shows no sign of slowing down. It's always "onward and upward" for her.
But what makes Jacquie most proud of her tenure so far in the air show business? "As for special achievements -- don't laugh …" she says. "Flying my first air show at 50 years old will always be one of my biggest achievements!!"
Jacquie B Bio | 2011 By Estelle R. Brown