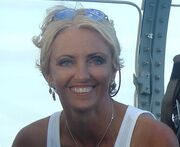 Patty Wagstaff (née Patricia Rosalie Kearns Combs; born September 11, 1951 in St. Louis, Missouri) is an aerobatic pilot from the United States. Wagstaff traveled all over the world as a child: her father was a pilot for Japan Airlines, and Wagstaff would travel to Southeast Asia, Australia and Alaska to prepare for her own career as a pilot. Her first lesson was on a Cessna 185; since then, she has earned licenses to fly multiple classes of aircraft, including helicopters. Her sister, Toni, is a pilot for Continental Airlines.[1]
In 1985, Wagstaff qualified for the US Aerobatic Team and competed until 1996. She was the top U.S. medal winner, winning gold, silver and bronze medals in international competition for several years. In 1987, she earned the Rolly Cole memorial award for her contributions to the aerobatic sports, and in 1991, she won her first of three US National Aerobatic Championships . In 1991, Western Flyer's Magazine readers chose her as their favorite pilot. She was the International Aerobatic Club champion in 1993. In 1994, her Goodrich-sponsored 260 Extra 260 airplane was put on display next to Amelia Earhart's Lockheed Vega at the Smithsonian Institution's National Air and Space Museum.
From 1988 to 1994, she won the Betty Skelton First Lady of Aerobatics award six times in a row.
The awards kept on coming, and in 1996, she was the top scoring American pilot at the World Aerobatics Championship. That year also, she won the GAN & Flyer Magazine Reader's Choice award as favorite female pilot, as well as the Charlie Hillard trophy.
Wagstaff's honors were not limited to awards and championships, and in 1997, she received her first Hall of Fame induction, being inducted into the Arizona Aviation Hall of Fame as well as the International Women's Aviation Hall of Fame. In 1997, she was the recipient of the NAA Paul Tissandier diploma, and she won the Bill Barber award for sportsmanship in 1998. In 2002, she won the Katherine and Marjorie Stinson award, and in 2004, she was elected into what is arguably aviation's most prestigious Hall of Fame, the National Aviation Hall of Fame. In December 2006 Wagstaff was inducted into the International Council of Air Shows Foundation Hall of Fame .[1]
Based in St. Augustine, Florida, Wagstaff continues working in the aviation field as an airshow pilot, stunt pilot for films, consultant, flight instructor and author. She is Emeritus Board Member of the Smithsonian Institution, National Air and Space Museum. She was on the Presidential Advisory Committee to the Centennial of Flight commission. She flies airshows across North America in a variety of airplanes including the Extra, T-6, P-51 Mustang and others. In addition to airshows, Wagstaff has flown OV-10 Bronco's as a seasonal firefighter in California.
Patty Wagstaff has been featured numerous times in Microsoft's Flight Simulator series.
Wagstaff is an instrument rated pilot who flies herself to airshows that she performs at. She previously owned a Beechcraft Baron and Cirrus, and currently flies a V-Tailed Beechcraft K-35 with her two dogs and parrot.[3]