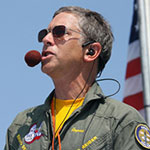 Rob Reider - air show announcer, recipient of the coveted ICAS "Sword of Excellence," entertainer, pilot, Midwest television personality, singer, performer, writer, and winner of 5 Emmy awards has put all his experience into bringing the excitement of air shows "up close and personal" to audiences all over the North America.
2012 marks Rob's 34th year as an announcer and his 7th as a full-time air show announcer. With 135 shows completed in just the last 6 years, he's excited about the upcoming season.
At the International Council of Air Shows 2007 convention in Las Vegas, Rob became the 34th recipient of the ICAS "Sword of Excellence," the highest award an air show professional can receive.
In September of last year the U.S. Navy named Rob Reider an "Honorary Blue Angel," only the 46th person to receive that honor in the 65-year history of the team.
He's recognized by pilots around the country as the on-camera host for Sporty's Pilot Shops award-winning pilot training videos.
All of his entertainment, show business, video, and aviation experience have given him the ability to communicate the excitement of air shows to the audience. "I've never gotten over just how amazing air show performers are," Rob says. "Narrating a show is a wonderful opportunity to try to put an audience 'into the cockpit.' Besides, when I'm announcing, I have the best seat in the house!.
His talent has been recognized by Discovery Networks – Rob was chosen to be the voice of the 3Net Oceana Air Show 3D television program which premiered in March of last year.
While still a college student in Cincinnati, Rob began work as a singer and co-host of a live, daily talk-variety show that was broadcast in 4 cities in the midwest. During his 13-year career there he won 5 Emmy awards for his on-air performance and musical compositions. Over the years he appeared as a soloist with the famed Cincinnati Pops Orchestra and has sung both "The Star Spangled Banner" and "O Canada" for many air shows and major league baseball games.
In 1979 his television work took him to the Dayton Air Show and he immediately became a volunteer. By 1990 Rob was the "color announcer," working with award-winning announcers Bill Bordeleau and Danny Clisham. He learned from the best in the business.
Rob began to work on the "air show circuit" and has been a member of ICAS for 15 years. ICAS has also recognized his talent by asking him to be the master of ceremonies for the final night convention "Chairman's Banquet" for twelve of the last thirteen years.
Rob's 2012 schedule took him to 24 shows, making him one of the busiest and most sought-after announcers in North America. He has worked at shows from Maine to California, including Florida's "Sun 'n Fun," where he's now the chairman of the announcing team, and EAA's "Airventure" in Oshkosh, Wisconsin.
Rob owns and operates the Brightsides Studio, a fully digital facility producing music and narration tracks, air show commercials, and air show performers. He can also do voice-overs and full production commercials for your air show. In 2007 Rob's production and voice helped the "Gathering of Mustangs and Legends" show to win first prize in the ICAS Marketing Competition's "Radio Spot – Large Show" category.

It's been said of Rob Reider, "He's excited and supercharged! He's a performer with the unique ability to meet an audience where they are, touch their hearts, make them laugh, make them cry, and leave them with a feeling that they have been totally entertained…
Source: http://robreider.com/specs/
Community content is available under
CC-BY-SA
unless otherwise noted.