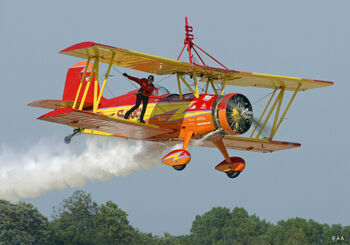 The "Showcat" is the first Grumman biplane to be used in airshows since the 1930's when the late Al Williams flew the famed "Gulfhawk". Gene Soucy's new airplane is also the first agricultural aircraft to be used in the airshow environment. Gene has created three new acts with the airplane; a Hollywood style smoke and noise solo routine, a wingwalking act, and a night pyrotechnic show: "Fireflight".
The Ag Cat was first designed in 1958 and over 1800 Cats are in use throughout the world. The aircraft carries on the Grumman tradition of a strong over-built airframe and has the best pilot safety record in the ag business.
Soucy's "Showcat" was modified by Jim Swick at his son's "Swick Aircraft" facility in McKinney Texas. The six-month project entailed a complete renovation of the former crop sprayer. The hopper was removed and a two seat front cockpit was added for media rides. The entire top of the fuselage was redesigned with a sleeker look including a new rear cockpit, engine cowling, dorsal fin and turtle deck. The wings were clipped to improve roll rate, new gear fairings, wheel pants, and smaller tires were installed. The aircraft was fitted with a Bendix fuel injector and new inverted fuel and oil systems were constructed. The total aerodynamic cleanup improved cross-country cruising speed from 90 MPH to 110 MPH. Swick also installed an airshow smoke system and wing rider stand, plus a wing-tip smoke and pyrotechnic system. The aircraft's electrical system was removed and completely rewired.
Another interesting feature of the Ag Cat was the removable side panels on the fuselage. No other airshow aircraft provides the ease of accessibility for maintenance, which is so important in this type of flying.
The combination of the Showcat's light wing-loading and high lift airfoil section provide the perfect slow speed performance for the wingwalking airshow Gene is performing. In the airshow configuration, the Showcat is still operating 1,500 pounds below the maximum weight it was flown at in the cropduster configuration with a full load of chemical.
Gene Soucy states that the modified Ag Cat makes the "perfect airshow airplane". It has all metal construction, ease of maintenance, excellent controllability and good cross-country range. It also has the round engine, the "Pratt & Whitney 985", which provides the earth-shaking noise that has been an airshow tradition since the 1930's.
In addition to the airshow potential of the airplane as a wingwalking and pyrotechnic platform, it also offers the capability of skywriting and banner towing. If there ever was an airplane created expressly for the airshow industry, it's the "Showcat".
Specifications (Showcat)
Edit
General characteristics
Crew: One
Capacity: One passenger
Length: 24 ft 9 in (7.5 m)
Wingspan: 37 ft 6 in (11 m)
Height: 10 ft 2 in (3.1 m)
Empty weight: 2,900 lb (1,315 kg) with electrical and radio
Gross weight: 4,500 lb (2,041 kg)
Fuel capacity: 102 US gallons
Powerplant: 1 × Pratt & Whitney R-985-14B , 450 hp (Expression error: Unexpected < operator. kW)
Propellers: 2-bladed Hamilton Standard 2D30-6101-A-12
Performance
Maximum speed: 190 mph (306 km/h; 165 kn)
Cruise speed: 100 mph (87 kn; 161 km/h)
Stall speed: 45 mph (39 kn; 72 km/h)
G limits: 6 positive, 3 negative
Rate of climb: 1,200 ft/min (
ERROR {Convert}: Invalid parameters: 1=1200 2=( 1200 )*0.00508 3= 4= 5= 6= with {u}= n= .
             Try using range: {{convert|1200|( 1200 )*0.00508|...}} to convert a range of numbers.)